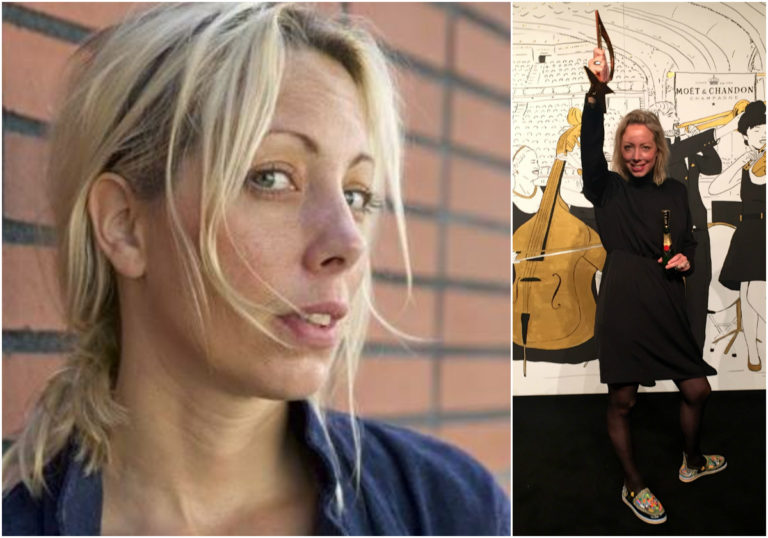 Sophia Ersson was born in Stockholm, Sweden in 1980. She is an accomplished singer, songwriter, composer and producer. Her latest achievement as a film composer is feature film Girls Lost (Pojkarna), which world premiered at Toronto International Film Festival 2015. It has been screened and awarded at many international filmfestivals such as Cannes, Rotterdam and Rome International Film Festival.
She is nominated for Sweden's most prominent Film Award "Guldbaggen" (The Swedish Academy Awards) for Best Original Score - Girls Lost. She's also nominated internationally for her score to Girls Lost for The Harpa Award 2017. The winner is presented at the Cannes Film festival 2017.
Trademarks: Electro, singer-songwriter and dreamy electronic music.
"...Mood-wise, "Girls Lost" also sometimes suggests a distaff version of the Spielbergian adolescent-bonding movies from the "Goonies" era. (A synth score by Sophia Ersson, who sings some of the songs on the soundtrack, helps to set a retro vibe.)..." / Ben Kenigsberger Variety US
"...The opening sequence shows main character Kim (Tuva Jagell) being pursued through the woods while a moody John Carpenter-esque electronic score pounds away..." / David Rooney The Hollywood reporter US
"...Keining puts a distinctive personal stamp on the material. She plays with the enduring fantasy tropes – body transformations, full moon iconography, magic gone wrong – to enthralling effect, with the aid of the film's moody cinematography and an awesome soundtrack. Rarely have high school hallways seemed so ominous on screen..." / Shane Slater Awards Circuit US
"...Their transformations bring positive things, but also complications… it's very punk," Baran says, "It features music from the likes of The Knife on the soundtrack, and is extremely compelling..." / Adam Baran HBO New Fest
"...One of the keys to creating this fairy tale world in ordinary surrounds is the music. The score by Sophia Ersson is a real asset to GIRLS LOST creating a moody electro-pop vibe that beautifully enhances the experience. Surging and jumping in the emotionally tense moments, creating anxiety and unease when the three leads are in danger and guiding us through the transformation scenes with subtly shifting masculine and feminine tones. Watching this film without the sound would almost leave it feeling empty. The score somehow seems to fill the quiet moments and speak for the characters when it would otherwise feel like something is being left unsaid..." / Kernel Kate saltypopcorn Australia
"I also loved the film's soundtrack – the sparse, electronic beats of Sophia Ersson compound the film's otherworldliness in the most intimate way, like sleeping in the womb of an alien."
/ Isobel Yeap, 4:3 US
FILM & TV

Kommande
Internationell långfilm i samproduktion med Sverige. Regi Alexandra-Thérése Keining
Senaste
- Winner of Best Electronic and Acoustic Score- International Grand Scores Award 2017
- Nominated for Guldbagge 2017 Best original score for Pojkarna/Girls Lost
- Nominated for The 2017 HARPA Award for Pojkarna/Girls Lost. Nomination text Harpa:
Sophia Erssons has composed a distinctively personal synth score. The anxiety and unease of Pojkarna is hightened by the sparse, electronic beats of Sophia Ersson in the most intimate way. It is clear that the soundtrack to Pojkarna is not music added to the film. The score is part of the narration, as central to the storytelling and the characters as the cinematography.

Tidigare

Pojkarna/Girls Lost 2016. Regi Alexandra Thérése Keining. Produktionsbolag: Göta Film. Längd 106 min.
"10" 2016. Regi Mathias Näslund.Produktionsbolag: Klevgränd produktion
Med:Stormvarning, Tomas Andersson Wij, Titiyo, Rebecka Thörnqvist mfl.
Längd 10 min.
Elegia 2012. Regi Alexandra Thérese Keining
Skådespelare: Sverrir Gudnason, Nina Zanjani. Längd 10 min
Svensk premiär Göteborgs filmefestival.
Internationell premiär: LA Filmfest
Babysister 2007. Regi Saga Gärde. Produktionsbolag:Dansk Skalle. Längd 11 min.
Skådespelare:Alexandra Dahlström och Cecilia Häll
Reklam/jinglar, övrigt:
- Artizan Magazine 2013. Produktionsbolag:Flashpoint Labs Australia
- "Kulturstrategi 2014" Beställare Malmö Stad. (4 st filmer) Produktionsbolag:Husarrest Sverige
- "Farewell" 2016. Produktionsbolag: Stockholm Design Lab
-Musik till App Undertoner Klevgränd 2016.
-Short for Libanon Government 2016.